Air Freshener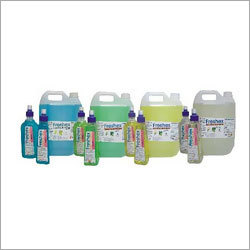 Air Freshener
Product Code : BO-07
Brand Name : BLUE OCEAN CLEANING
We are highly reputed exporter, trader and suppliers of optimum quality Room Air Freshener. This freshener is aerosol-free, water based room fresheners. It is available to customers in many variants based on floral, citrus and cologne bases. This Room Air Freshener is long-lasting as well as non-irritating. This is also provided in water base and low concentration alcohol base. The exotic flower fragrance is fully free of VOCs. The alcohol used in other fragrances is denatured ethanol which is naturally sourced and bio-degradable.

Features:

Lingering fragrance
Non-allergic
Free of alcohol
Cost effective

Usage Dilution ready to use:

Special Remarks spray 15-20 times /100sq ft is normally recommended for 1-1.5 hour effect.
(Also human nose becomes immune to fragrance in about 10-15 minutes & hence inhabitants of a room where fresheners is sprayed may not feel the fragrance, but new entrants to the room will feel it)

Available in 5 ltr cans & in 500 ml & 300 ml spray bottles as ready to use (RTU) empty spray bottles are also available for refilling RTU solution at site.


Contact Details
BLUE OCEAN CLEANING SOLUTIONS
D-8, MIDC Phase -1, Dombivili east, Near maharaja Dyeing, Dist-Thane, Thane - 421203, Maharashtra, India